I believe this will be my last trip for 2008. I'm heading out on vacation and probably won't be going to CVS in the next few days. It's been a GREAT year - lots of fun, lots of savings. Can't wait for 2009!
So. Today. I almost skipped CVS entirely because there was only going to be the P&G coupons in the paper - which I don't desperately need - and they don't do double papers on holiday weekends. There weren't any deals that I was really excited about either. But then I saw that the Blade coupon worked on the Blade energy drink, and I figured hey, I'll get $1 overage for that, so I might as well go. And my husband said he wanted a hair care product, and I really feel like $50 in ECBs is too much for me to keep track of (I still have a few big ones that I need to split up or use) so I decided to get that for him too. I checked www.couponmom.com and pulled all coupons for hair care products figuring I'd buy the cheapest for him (of course he doesn't mention what he needs on a week when there are amazing sales/ECBs, but what can ya do, right?).
1 Blade Energy Drink - $1
1 Colgate Total Advanced toothpaste - $2.99
1 regular Sunday paper - $2
1 Dove hair care - $4.99
3 J&J First Aid kits - $2.97
1 small bag of CVS cough drops as filler - 50 cents
Used $2/Blade, $1 CRT for Cogate, $1.50 Dove coupon, and $3/2 J&J printable. Used $6.98 ECBs (adjusted down from $6.99) and 12 cents for the sales tax. Got back $2 for the Colgate (so overall, a $4.99 ECB "loss" - but it went toward the Dove and the newspaper - and the newspaper has coupons sooooo....)
The cashier was confused at first by the Blade coupon - "You didn't get this product, ma'am." And I smiled and said "Oh, no, it's the energy drink." And she apologized profusely when I showed her - and then the coupon went through beep-free and I got the $1 overage, woohoo! (Part of me is tempted to go back and do this deal again but A) I don't want to press my luck, B) I don't really need another $1 at CVS right now and C) Nobody in my household drinks that stuff and I have nobody to give it to! Not sure what I'm going to do with it...)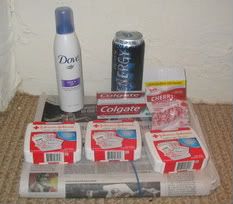 HAPPY NEW YEAR TO EVERYONE! See you in 2009!
Total OOP: $80.51
Total merchandise: 5 boxes of Excedrin, 5 boxes of CVS pain relief, 3 rolls of CVS TP, 5 12 oz. Softsoap SPA bodywashes, 1 diabetes monitor (donated), 1 EOB gift bag, 2 EOB lip butters, 2 bottles Herbal Essences shampoo, 2 bottles Herbal Essences conditioner, 5 18 oz. Softsoap SPA bodywashes, 7 Colgate toothbrushes, 3 Aquafresh toothpastes, 1 pair of CVS pantyhose, 4 Johnsons Buddies soaps, 6 travel tissue packs, 1 Dawn dish detergent, 17 double Sunday papers, 2 regular Sunday papers, 3 Tums Quik Paks, 3 boxes of CVS Loratadine, 1 spray sunblock [returned], 1 small tube sunblock, 2 boxes of cereal, 8 Colgate toothpastes, 1 box of 3 Intuition razor refills, 4 Adidas deodorants, 4 Brut deodorants, 5 Dove deodorants, 3 boxes of CVS band aids, 2 packs of CVS cotton swabs, 3 Listerine Smart Rinses, 6 bottles Powerade, 3 Nivea shave gels, 1 Benefiber, 1 bottle Dove shampoo, 1 bottle Dove conditioner, 2 tubes Nutritioniste cleanser, 4 bottles Dove body wash, 2 Oral B power toothbrushes, 2 sets of 2 Oral B power replacement heads, 1 bottle Palmolive Oxy, 16 SoyJoy bars, 3 boxes of Breathe Right strips, 5 boxes of cookies, 2-pack of Oral B toothbrushes, 24-pack Gold Emblem bottled water, 1 tube Physician's Formula mascara, 1 small jar CVS petroleum jelly, 3 photobooks, 2 packs of CVS panty liners, 8 tubs of baby wipes, 4 travel packs of baby wipes, 2 packs of makeup removing wipes, 4 packs of Trident gum, 1 pack of Thank You notes, 1 tube of Banana Boat sunblock, 2 travel-size bottles of Renu, 5 12oz bottles of Renu, 4 bags of Lifesavers, 4 big bags of M&Ms, 2 small bags of M&Ms, 2 bottles infant Advil, 1 bag of 30 CVS cough drops, 2 travel-sized bags of CVS cough drops, 3 bottles of Pert, 1 CVS ibuprofen, 2 bags Dove chocolate, 4 packs of Stayfree pads, 1 pack of Kotex lightdays pads, 4 Suave bodywashes, 2 Covergirl Wetslicks lipglosses, 2 Dawn hand renewal, 1 L'Oreal Genesis face wipes, 2 Chex Mix bags, 3 Revlon Color Stay nail polishes, 1 L'Oreal Revitalift cream, 1 box 30 Breathe Right Strips, 1 Nivea for Men bodywash, 1 bottle Crest Pro-Health rinse, 1 bottle CoverGirl clean foundation, 2 boxes of 3 Wellpatches, 1 large bottle Vitamin Water, 3 Bic Soleil razor + refills, 4 boxes Soleil refills, 2 packs of Always Infinity pads, 2 pumpkin pails, 2 bags of Brachs candy, 2 Funlights, 1 Just for Men haircolor, 2 2-packs of toothbrushes, 2 Excedrin Express Gels, 1 CVS-brand Vitamin D, 1 pack Bic Comfort Razors, 2 bags M&Ms fun size, 1 Nova Max glucose monitor, 5 greeting cards, 1 bottle Smart Water, 1 bottle Garnier shampoo, 2 Crest toothpastes, 2 Glade plug in fans, 2 Glade oil refills, 1 L'Oreal Age-Perfect Pro-Calcium tinted moisturizer, 2 L'Oreal lip glosses, 1 Garnier face wipes, 3 Sally Hansen nail polishes, 1 Aussie shampoo, 1 Aussie conditioner, 3 bottles of Gatorade G2, 1 Schick Quattro, 3 Maybelline mineral makeups, 1 Covergirl smoothing powder, 1 Covergirl smoothing liquid, 1 universal remote control, 1 Johnson's lotion, 2 bottles All Small&Mighty Free&Clear, 1 Cascade Action Pacs, 1 Hershey bar, 1 single-serving CVS water, 1 3-pack Rolaids, 2 bottles Complete contact lens solution, 2 tubes Maybelline lipstick, 1 Essence of Beauty bag with EOB products, 5 bottles Listerine, 1 pack of Benefiber sticks, 1 8-pack Zantac, 2 L'Oreal HIP metallic eye shadows, 2 boxes J&J Band Aids, 1 pack Halls Naturals, 3 J&J First Aid kits, 1 Blade energy drink, 1 Dove mousse.
Current ECB status: $44.80