I'm back from vacation and I'm going to try to make the numbers below as accurate as possible to include all the spending I did on our trip and today.
Today I bought:
1 double Sunday paper - $2.50
1 CVS photo book - $7.99 [I had a raincheck - usually these are $12.99]
1 tub of CVS baby wipes - $2.50
1 Glade candle - $6.99
1 package of Cascade actionpaks - $4
I used $17 in ECBs (I had a $10 and a $7 that were close to expiring and the upcoming deals just aren't inspiring enough for me to have waited), $3/Glade, $2/photo book from the flu shot coupon booklet (my favorite cashier gave me one - HEADS UP this only took off $1 and he manually gave me the other $1 off! But this also was a last minute bonus so I threw in the Cascade at the last minute to take advantage of it since it was on sale and we use it all the time) and my photo book raincheck. I paid $3.48 OOP. I got back $6.99 for the Glade candle and $8 for the photobook thanks to the raincheck. Also apparently I put $4 (the Cascade) toward a larger P&G deal to get a free DVD?
Plus my cashier gave me a heads up that photobooks may be on sale (he didn't say free, just on sale) on Black Friday. I hope he's right - I want more of them for my family members!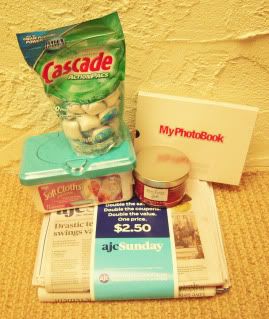 Total OOP: $49.78 ($26.89 tax)
Total merchandise: 23 double Sunday papers, 3 single Sunday papers, 4 boxes Throat Coolers, 1 Garnier 2-in-1 shampoo/conditioner, 8 packs of Stayfree maxi pads, 1 box of sheer Band Aids, 4 boxes of Soy Joy bars, 20 Soy Joy bars, 1 pack of Nutra Trim gum, 6 bottles Dawn, 5 travel packs of tissues, 7 greeting cards, 2 boxes 5 ct. allergy meds, 3 3-packs of CVS brand paper towels, 1 box of CVS cold medicine (Dayquil-ish), 1 Gillette shampoo, 1 Gillette conditioner, 1 Gillette shampoo+conditioner, 1 box of 30 Breathe Right strips, 4 Gillette Gamer razors, 4 L'Oreal towelettes, 1 KY product, 1 CVS toilet paper, 1 10-count Excedrin, 1 chewable aspirin, 2 Johnson's Buddies soaps, 1 20 oz. Dr. Pepper, 2 small CVS mouthwashes, 10 25-count CVS cotton rounds, 4 small boxes of Wheat Thins, 1 Boost Kid Essentials, 2 Cascade Action Pacs, 2 bags of Halls cough drops, 2 Energy Shots 2 pack, 6 Colgate toothpastes, 1 small box Breathe Right strips, 5 bottles Suave body wash, 2 bottles Herbal Essences shampoo, 2 bottles Herbal Essences conditioner, 1 Snickers heart candy, 2 bottles Mylanta Mint, 1 Fruitopia shampoo, 2 Venus Spa Breeze razors, 1 Renuzit Tri-Scent starter kit, 1 box 10-count Carnation Instant Breakfast, 2 single-serving Pringles, 1 bottle Vaseline lotion, 1 tube Crest toothpaste, 1 bottle Irish Spring body wash, 5 Dry Idea roll on deodorants, 1 Colgate Max White, 3 Colgate Max Fresh, 2 Crest Pro-Health Enamel, 2 Hylands teething tablets, 2 Skintimate shave gels, 1 pack Juicyfruit gum, 1 Softsoap coconut scrub, 2 Colgate sensitive toothpastes, 1 Zantrex 2-pack, 1 Adidas deodorant, 3 Contour monitors, 1 Bayer quick-release aspirin, 3 tubs CVS-brand baby wipes, 2 bags Purina dog treats, 1 box of Playtex tampons, 2 boxes of Hello Kitty bandaids, 1 Clearasil face wash, 3 Speed Stick pro deodorants, 1 diet Dr. Pepper, 2 Gillette Fusion razors, 3 Powerades, 2 Thermacare wraps, 2 packs CVS panty liners, 3 boxes Post Trail Mix Crunch cereal, 2 rolls CVS tape, 2 bottles school glue, 8 10-packs of pens, 2 rulers, 3 scissors, 4 1-subject notebooks, 3 Dove chocolate bars, 1 Bayer Breeze2 monitor, 6 photobooks, 1 photo DVD, 2 small packs of almonds, 4 packs of filler paper, 2 vinyl binders, 2 small memo pads, 3 bubble mailers, 4 composition books, 2 packs of Pilot pens, 3 caramels, 2 packs of sticky notes, 3 boxes Kashi Go Lean Crunch cereal, 1 Blink Tears, 5 bottles Softsoap Serum, 1 Revlon mineral mousse, 3 travel packs CVS baby wipes, 6 Twix bars, 1 Milky Way dark bar, 1 Axe shampoo/bonus hair gel, 2 mini composition books, 1 L'Oreal Revitalift deep set wrinkle repair, 1 L'Oreal Revitalift Eye Duo, 6 Red Cross first aid kits, 1 pair Phillips headphones, 4 packs of Carefree panty liners, 1 trial size Arm&Hammer toothpaste, 10 packs of Poise liners, 1 big Glade Fragrance Collection soy candle, 1 mini Glade Fragrance Collection soy candle, 1 Clairol Living Color hair dye, 4 bottles Renu (one sensitive, three regular), 1 pack of Schick disposable sensitive razors, 1 Lifelock starter kit, 1 bottle infant ibuprofen, 1 12-pack Cottonelle toilet paper, 1 Colgate Enamel Care toothpaste, 3 bottles Listerine Total Care, 2 bottles Purex, 2 Dyna energy shot packs, 2 3-packs CVS glue sticks, 2 Accu-Check Aviva monitors, 5 printed photos, Vaseline Sheer Infusion lotion, 1 Revlon nail polish, 1 4-pack CVS razors, 1 bottle CVS ibuprofen (24 count), 1 package of moleskin, 1 package of pantyhose, 1 big Glade candle, 1 tub of CVS baby wipes, 1 package of Cascade.
Current ECB status: $16.06