I had big plans...but the paper didn't have the P&G insert and the Brut deodorant was more than $3. (I may still get it later in the month but the higher OOP/smaller profit than I expected threw me off and I don't need it anyway. I think I misread the deal...)
So in the end I got: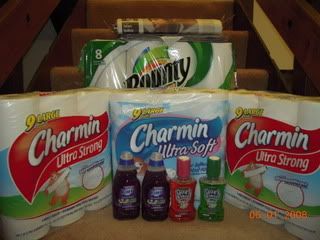 I used the coupon for free Dawn sent to me by P&G after the last bottle leaked, 2 $1 off the Listerine coupons (plus found the Try Me Free rebate form!), ECBs and the last of the money card from the sunscreen return.
I paid $4.38 OOP and ended up with $10 ECBs. Not fabulous, not awful.
The May deals are still on my receipt...