Well, the store was out of the Smart Rinse of all things (they'd had a ton of it last time I was in) but they had the 2-pack of toothbrushes (they actually had plenty, I might get another pack on Sunday). They also only had one bottle of the cucumber Dove body wash and I needed two bottles of body wash to make my scenario work out, so I bought a different kind and this time I may go to the other CVS and see if they'll let me exchange it.
I thought too much about this deal, to be honest.
Bought:
2 boxes of 12 Breathe Right Strips - $5.99 each/$11.98
5 boxes of cookies/crackers - $1 each/$5
1 bottle of Dove cucumber bodywash - $5.29
1 bottle of Dove bodywash that is not cucumber, boo - $5.29
1 pack of 2 Oral B toothbrushes - $6.99
Used 2 $1/Dove bodywash coupons, 5 $1/Nabisco coupons [they beeped after the first 2 and we weren't sure why but the manager that knows me pushed them through], $5/$30, $12 ECBs, $9.79 from the MyPoints gift card, $1.74 cash. (98 cents sales tax)
Got back $3 for the Dove and $6.99 for the Oral B. I have $1.05 toward the Dove deal but I probably am done for the month.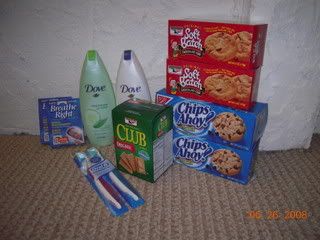 Total OOP: $13.45
Total merchandise: 5 boxes of Excedrin, 5 boxes of CVS pain relief, 2 rolls of CVS TP, 5 12 oz. Softsoap SPA bodywashes, 1 diabetes monitor (donated), 1 EOB gift bag, 2 EOB lip butters, 2 bottles Herbal Essences shampoo, 2 bottles Herbal Essences conditioner, 5 18 oz. Softsoap SPA bodywashes, 5 Colgate toothbrushes, 3 Aquafresh toothpastes, 1 pair of CVS pantyhose, 4 Johnsons Buddies soaps, 4 travel tissue packs, 1 Dawn dish detergent, 4 double Sunday papers, 2 Tums Quik Paks, 3 boxes of CVS Loratadine, 1 spray sunblock [returned], 1 small tube sunblock, 2 boxes of cereal, 3 Colgate toothpastes, 1 box of 3 Intuition razor refills, 3 Adidas deodorants, 4 Brut deodorants, 5 Dove deodorants, 3 boxes of CVS band aids, 2 packs of CVS cotton swabs, 3 Listerine Smart Rinses, 3 bottles Powerade, 3 Nivea shave gels, 1 Benefiber, 1 bottle Dove shampoo, 1 bottle Dove conditioner, 2 tubes Nutritioniste cleanser, 3 bottles Dove body wash, 2 Oral B power toothbrushes, 2 sets of 2 Oral B power replacement heads, 1 bottle Palmolive Oxy, 12 SoyJoy bars, 2 boxes of Breathe Right strips, 5 boxes of cookies, 2-pack of Oral B toothbrushes
Current ECB status: $9.99