I got some of the coupons in the mail that I was waiting for, so I went back to CVS (knowing now that they only had 2 of the Nivea shave gels and that the Benefiber was more expensive than I'd initially figured...)
Bought:
Two Nivea "Extreme" Shave Gels - $7.98
One Nivea shave gel - $2.69
Two Powerades - $2
Two Dove hair products (one shampoo, one conditioner) - BOGO so both were $4.99 total (in my plans at home I thought it would be $4.29, but it's still a great deal!)
One Garnier Nutritioniste scrub - $5.99
One Benefiber - $6.89
Used two 75 cents off Powerade, $4 off two Nivea Extreme gels, two $2 off Dove hair care, $1 off Nutritioniste, and $5.99 off Benefiber, as well as $5/$30 and $6.49 in ECBs. Paid $3.79 OOP (a bit high, but $1.19 was tax and now I have one Garnier toward the $10 ECB deal).
Got back $8 ECBs.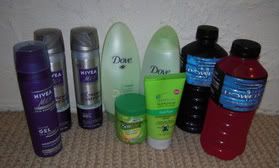 Total OOP: $10.31
Total merchandise: 5 boxes of Excedrin, 5 boxes of CVS pain relief, 2 rolls of CVS TP, 5 12 oz. Softsoap SPA bodywashes, 1 diabetes monitor (donated), 1 EOB gift bag, 2 EOB lip butters, 2 bottles Herbal Essences shampoo, 2 bottles Herbal Essences conditioner, 5 18 oz. Softsoap SPA bodywashes, 5 Colgate toothbrushes, 3 Aquafresh toothpastes, 1 pair of CVS pantyhose, 4 Johnsons Buddies soaps, 2 travel tissue packs, 1 Dawn dish detergent, 2 double Sunday papers, 2 Tums Quik Paks, 3 boxes of CVS Loratadine, 1 spray sunblock [returned], 1 small tube sunblock, 2 boxes of cereal, 3 Colgate toothpastes, 1 box of 3 Intuition razor refills, 3 Adidas deodorants, 2 Brut deodorants, 4 Dove deodorants, 3 boxes of CVS band aids, 2 packs of CVS cotton swabs, 1 Listerine Smart Rinse, 2 bottles Powerade, 3 Nivea shave gels, 1 Benefiber, 1 bottle Dove shampoo, 1 bottle Dove conditioner, 1 tube Nutritioniste cleanser
Current ECB status: $8