Before you go any further, you may be interested in reading an article I wrote for
Examiner.com
about how you can
save money on fresh produce
using Target store coupons!
Trip two of the day! (
Check out trip one
.) I walked to the other close CVS to use my $5/$25 and finish up the L'Oreal deal - and now I'm so confused as to how CVS is determining sales tax all over again!
I was going to get my free Rice Krispies as filler to get up to $25, but shockingly this store had the free-after-ECB headphones in stock! I think it had something to do with the fact that the headphones were locked up so people had to ask for them.
1 L'Oreal Skingenesis towelettes - $5.99
1 L'Oreal Revatalift Deep-Set Wrinkle Repair 24 Hr Eye Repair Duo - $14.99
1 Phillips headphones - $6.99
Used $5/$25, $5/L'Oreal Revitalift printable, $1/L'Oreal cleanser. The cashier said my total was $18-something. I had my husband and child with me, and there was a line behind me with only one cashier working, so I got flustered and forgot to ask what the pre-tax total was. This apparently worked to my advantage, OOP-wise, though! I handed over $17.98 in ECBs - all the $4 ECBs I'd gotten from the Softsoap that were expiring soon, plus a $1.98. I paid 60 cents OOP and was surprised - I thought it would be much higher. Well...my pre-tax total was NEGATIVE $1.01. This is the second time at that store that I've managed to get a negative total - I have NO idea why. (All my ECBs rang up as MFR COUPON on the receipt.) So my tax was $1.61 but I only paid 60 cents. I got back $16.99 in ECBs - I "lost" an ECB but I don't mind since I spent it on sales tax and paid so much less OOP! (My goal is low OOP and the number of ECBs I currently have is beginning to get unwieldy anyway.) I sort of wished I'd had another Ready Fill booklet, but this still was a great deal as far as I'm concerned!
Next week there are two good moneymakers with printable coupons (Poise and Carefree). Unfortunately when I was printing one of the coupons, I messed up my printer, so I'm one shy of what I want to have (4 Carefree, 4 Poise). Then again, I don't know if I *NEED* so many moneymakers next week! Anyway, I'm on a quest for one more printable Carefree coupon by next Sunday...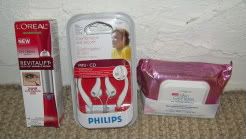 Total OOP: $31.95 ($16.72 tax)
Total merchandise: 18 double Sunday papers, 3 single Sunday papers, 4 boxes Throat Coolers, 1 Garnier 2-in-1 shampoo/conditioner, 8 packs of Stayfree maxi pads, 1 box of sheer Band Aids, 4 boxes of Soy Joy bars, 20 Soy Joy bars, 1 pack of Nutra Trim gum, 6 bottles Dawn, 4 travel packs of tissues, 7 greeting cards, 2 boxes 5 ct. allergy meds, 2 3-packs of CVS brand paper towels, 1 box of CVS cold medicine (Dayquil-ish), 1 Gillette shampoo, 1 Gillette conditioner, 1 Gillette shampoo+conditioner, 1 box of 30 Breathe Right strips, 4 Gillette Gamer razors, 4 L'Oreal towelettes, 1 KY product, 1 CVS toilet paper, 1 10-count Excedrin, 1 chewable aspirin, 2 Johnson's Buddies soaps, 1 20 oz. Dr. Pepper, 2 small CVS mouthwashes, 10 25-count CVS cotton rounds, 4 small boxes of Wheat Thins, 1 Boost Kid Essentials, 2 Cascade Action Pacs, 2 bags of Halls cough drops, 2 Energy Shots 2 pack, 5 Colgate toothpastes, 1 small box Breathe Right strips, 5 bottles Suave body wash, 2 bottles Herbal Essences shampoo, 2 bottles Herbal Essences conditioner, 1 Snickers heart candy, 2 bottles Mylanta Mint, 1 Fruitopia shampoo, 2 Venus Spa Breeze razors, 1 Renuzit Tri-Scent starter kit, 1 box 10-count Carnation Instant Breakfast, 2 single-serving Pringles, 1 bottle Vaseline lotion, 1 tube Crest toothpaste, 1 bottle Irish Spring body wash, 5 Dry Idea roll on deodorants, 1 Colgate Max White, 3 Colgate Max Fresh, 1 Crest Pro-Health Enamel, 2 Hylands teething tablets, 2 Skintimate shave gels, 1 pack Juicyfruit gum, 1 Softsoap coconut scrub, 2 Colgate sensitive toothpastes, 1 Zantrex 2-pack, 1 Adidas deodorant, 3 Contour monitors, 1 Bayer quick-release aspirin, 1 tub CVS-brand baby wipes, 2 bags Purina dog treats, 1 box of Playtex tampons, 2 boxes of Hello Kitty bandaids, 1 Clearasil face wash, 3 Speed Stick pro deodorants, 1 diet Dr. Pepper, 2 Gillette Fusion razors, 3 Powerades, 2 Thermacare wraps, 2 packs CVS panty liners, 3 boxes Post Trail Mix Crunch cereal, 2 rolls CVS tape, 2 bottles school glue, 8 10-packs of pens, 2 rulers, 3 scissors, 4 1-subject notebooks, 3 Dove chocolate bars, 1 Bayer Breeze2 monitor, 5 photobooks, 1 photo DVD, 2 small packs of almonds, 4 packs of filler paper, 2 vinyl binders, 2 small memo pads, 3 bubble mailers, 2 composition books, 2 packs of Pilot pens, 2 caramels, 2 packs of sticky notes, 3 boxes Kashi Go Lean Crunch cereal, 1 Blink Tears, 5 bottles Softsoap Serum, 1 Revlon mineral mousse, 1 travel pack CVS baby wipes, 6 Twix bars, 1 Milky Way dark bar, 1 Axe shampoo/bonus hair gel, 2 mini composition books, 1 L'Oreal Revitalift deep set wrinkle repair, 1 L'Oreal Revitalift Eye Duo, 6 Red Cross first aid kits, 1 pair Phillips headphones.
Current ECB status: $47.95